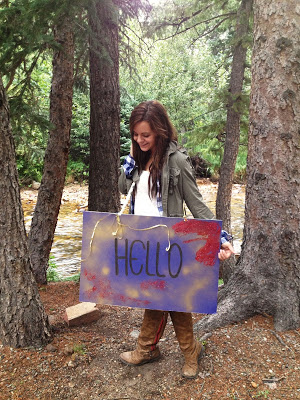 Well this is exciting... my very first post EVER!
I've been wanting to start this blog for a while now, but I finally decided to roll up my sleeves and do something about it. The very idea of a blog has become something of a cliché in today's culture...at least with my generation. I can't say that I know too many people who don't already possess one. I waited because I wanted to be sure that I was doing this for the right reasons and that I had a somewhat solid idea of what I wanted it to be about. So here it is!
To put it simply, I am a young creative, who has found her passion in life, and is now discovering all of the possibilities that life has to offer those who live through that passion. This blog was put in place to give others the opportunity to follow along what I like, what I experience, what I do and everywhere that life decides to take me.
I'm 21 years old and I know I don't have it all figured out. But I know what my passion is and I know who's leading me. With a story in my heart and a camera in my hand, I press on into all of the beautiful adventures that await those who are bold enough to take a chance on God. Stay tuned and see how it goes and I promise you, we will both be pleasantly surprised :)